I have tried to take some time this summer to get back into the swing of my reading. I usually am able to tear through a few books between semesters and with the summer, I try to get through a book every week or two. I started the summer with a recommendation from a student in my Children's Lit course. After that, I started to take recommendations from an online book club on Facebook that I am in. I like nice, light summer reads but picked up a heavier book along the way and ended up finishing it the day I started it. I am taking a couple of graduate courses in the fall and so I'm really trying to get in my recreational reading before textbook requirements, again, take over my time.
We're going to need more wine: stories that are funny, complicated, and true
by Gabrielle Union.
I was curious to see what she had to say, as I knew she and DW struggled with infertility. That was ultimately what piqued my interest. This was a really light and relatable read. It was quick and I got through it by just reading for a little nightly over the course of time I'd checked it out from the library. I like books that can discuss heavy material at times and balance it with humor and understanding. This did just that for me.
The Overdue Life of Amy Byler
by Kelly Harms.
I LOVED this book. I read it at the beach and got through about half in one day. It was my beach read while the kids were at their summer camps and I had a few hours (9-12) to kill. It was light and also sending signs from the universe, since the protagonist is a librarian and I'm going back to school to be one. I just really appreciated the lightness of the text and the realness of the toll motherhood can take sometimes.
When all is Said: a novel
by Anne Griffin.
Wow. I read this book in one day, mostly at the beach. The reading was light in terms of the writing; really easy to get through and the story flowed simply. It was really heavy though. As an empath, I had to take a few breaths once I finished and honestly, if I'd gone to the next day, I think that I would have left it behind because I literally spent an entire day reading it/crying. Still, if you're looking for perspective of losing a loved one, this may provide you with some. This book had me thinking about what I would say/think about how my life was molded in my final days. I will likely write about my five people in separate posts when I have the time to sit down and figure out who those five people would be — at first thought, I have three.
From the jacket: If you had to pick five people to sum up your life, who would they be? If you had to raise a glass to each of them, what would you say? And what would you learn about yourself, when all is said?
How to Party with an Infant
by Kaui Hart Hemmings.
Eh. I could take or leave this book. I wasn't really into the overall writing style or narration of this but the character development and plot line were okay. The protagonist was relatable but the supporting characters often fell flat for me. It was a light read though and quick.
The Bookish Life of Nina Hill
by Abbi Waxman.
This book was cute and light; a very straightforward and simple rom-com, basically. I liked the main character and found her relatable (hello, anxiety and a deep appreciation of literature). I found the setting charming and the family dynamic, once revealed, entertaining, sweet, and earnest. For me, this started as a beach read and ended with an SVU marathon while my husband and son were away for the weekend. * The ONLY complaint is that this is the second book in a row (Party with Infant) I've read where there was mention of accidental edibles consumption/intentional edibles deceit. Not really my cup of tea and I don't find it humorous, but that's my own opinion on the matter.
The Unhoneymooners
by Christina Lauren
I read this book in a day. The character development was seamless and the plot was forthright. There was foreshadowing and overall, this was a nice, light read. I liked Lauren's writing style and actually picked up another of her books when I was at the library to read. This was recommended to me in an online book club and while it was predictable, I found it enjoyable.
You've Been Volunteered
by Laurie Gleman
I loved Class Mom, so when I saw that her sequel was out, I had to grab it. (Well, I had to be 16th in line to check out at my local library.) I appreciate the snark and wit woven through the fabric of this book. My husband was a room parent for years and the emails from the other room parents can definitely be over the top, so I appreciated the candor and comedy surrounding this text.
My Favorite Half-Night Stand
by Christina Lauren
This book was on the stand near the computers when I was picking up You've Been Volunteered, so I grabbed it. The writing is clean and light; just as The Unhoneymooners. The perspective switched between the two lead characters about their relationship, thoughts, and feelings. It took a few chapters to settle into that format but afterwards, it was quick and easy. I recommend if you're looking for something easy and mindless, as most of my summer reads have been.
Next Level Basic
by Stassi Schroeder
This book popped up during my library search as a "suggested book" — I learned that this gal has her own show, so I think if you're a fan of hers/know who she is, you may get more out of it. I appreciated her forthright honesty about 'being basic' and we share a mutual love of Chrissy Teigan. If you're looking for a book to read in a couple of hours that doesn't leave you stressed, this may be the book for you.
Honestly, I am typically not interested at all in chic-lit. I think it's awful because it's normally terribly written and frankly,  it's silly. That being said, I have enjoyed taking a break with really light reads this summer. It's been a nice retreat to read without a ton of post-reading thoughts lingering.
Eleanor Oliphant is Completely Fine
by Gail Honeyman.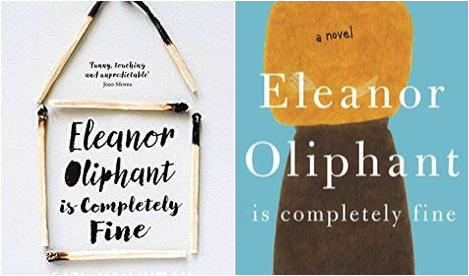 I had a hard time getting into this book. I started to read in on our flight to Disney and then just couldn't get wrapped up, so I've been using it as my emergency book at the beach (basically, something to read when I have nothing else). This one is in progress and will be as my semester picks up.
I try to get as much reading in as I can. I always find myself trying to do what the kids do (and I always used to assign as a secondary ELA teacher): Read for 20 minutes a night. This is simply something that doesn't work for me. I want to try to read for 20 minutes nightly with magazines I have laying around the house; but books — I need a solid few hours so that I can get through most, if not all, of the text. I was fortunate that my husband worked from home one day a week this summer and I could go to the beach and just read and go for walks; he also took the kids on a few day trips, which opened up some reading time for me. I knocked three books out during my trip to PA to visit my parents.
With the fall semester looming, I know that I won't have as much time to read as I did this summer. My goal is to knock out 1-2 books per month, reading on weekends after yoga or while my husband and the kids are at church. We have a few weekend plans in place because we want to do more 'family dates' but I think that just being in a place to read and relax with a good book has been great for me and I'd like to keep that up.